Samcheok Port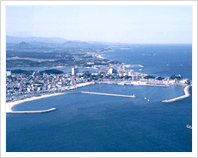 A facility aimed to handle the cargo from nearby cement factories and served as advance base for fishery. The Osipcheon(creek) is running near by the port.
Histroy
1976.11.20

Port designated on November 20, 1976

1991.10.14

Opened on October 14, 1991
Trading port with functions of fishing port located on the river mouth of Osipcheon at Jeongra-dong, Samcheok-si, Gangwon-do.
Naturally good harbor called as Jeongra-port during the Joseon Dynasty and has Samcheokposin a military base for Yoeongdong region.
In 1915, beginning with constructing breakwater(91m), the port facilities consist of quay (776m), breakwater(670m), groin(361m), lightera€™s wharf(1,658m), and revetment (746).
Port capacity consists of uploading capacity(8.7million ton), cargo capacity(6.8million ton), and number of birthing (1,200ships). The cement and sub-material for cement by Dongyang Cement Co., Ltd, is the 99% of total cargos, in and out.
The number of fishing ships based on Samcheok-port is approximately 120 ships. Until early 1990s, there were plenty of Alaska Pollack, Filefish and Squid but the fishing quantity has gone down every year since year 2000. Thus, not only changes into hatchery fish business but also environment protection for future fishing is required.
In 2007, the utilization of Samcheok-port has increased due to transfer requirements from Sekwang MTech, which is a subsidiary of Sekwang Shipping. It has built its ship block factory on the ite of ex-thermal power plant, which was reserved for Samcheok-porta€™s future expansion, to produce and assemble ship blocks. Those blocks are delivered to Ulsan-port through Samcheok-port.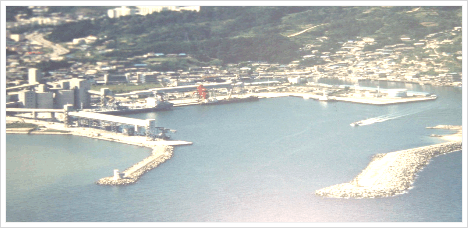 View of Samcheok Port