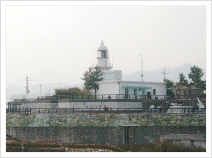 Was once called Oijin, but since it became muddy and dark because of briquette factories built in the days of Japanese colonial rule, people began calling Mukhojin. Before becoming the city, Mukho-dong included Mukhojin 1, 2,3,4,5,6-ri. Eodal-dong near Mukho-dong used to be called Eoryeobong, which was changed to today's eodal. When the region was promoted to the city, Eodal and Daejin was merged as Eodal-dong, and renamed to Mukho-dong in 1998. It was named Daejin because there was a large ferry.
mokho lighthouse
Location
San 2-215, Mukhojin-dong, Donghae-si, Gangwon-do, Korea;
(E : 129° 07' 2" / N : 37° 33' 1")
First day of operation
June 8, 1963
Visual Aids
Type
KRB-375(220V - 700W)
Intensity
10second flash (FIW10s)
Effective Range
23 miles geographically, 43 miles optically, 26 miles nominally
Sound
Type
Electrical horn(2Kw)
Whistling frequency
A 55-second sound (5 seconds with 50 second pause)
Effective Range
2 miles (3.7km)
Staff
3 including the director
Contacts
Phone : +82-33-531-3258
E - mail : mhlighthouse@hanmail.net
Background
It launched its operation in August 11, 1941, and served mainly as a coal trading port and developed to today's fishing port. Mukho lighthouse was built in June 8, 1963, which has contributed to vessels' safe travelling.
Structure and Features of Light Tower
Structure :

A round-shaped reinforced concrete structure with 12m-height.

Features :

3-story structure with spiral staircase, 3.5m inner diameter. It consists of substructure, top and lantern. A guard rail is installed on the part between topand lantern for maintenance and watching.
Facility
It contains 4 units of lodging facility, office, top equipment room and garden. The office is quite roomy, 46.38m2, to provide enough space for normal activities, and the modernist structure equipped with sanitary and cooking facilities. Also, it is maintained the utmost condition of cleanness and pureness. To explain the light tower again, it launched its operation in June 1963 and was made of reinforced concrete. It was designed as a round tower with white color on it and situated on the top of 67m-high seaside. Finally, the light tower is the only structure in Donghae-si in terms of cultural value.

The size of a room for machinery and equipment is 142.36 m2 and designed to store them effectively by dividing it into a couple of separated and closed rooms for them. Also the PR office of the Maritime Affairs and Port Office is located in the room to maximize its function, informing the importance of the Administration. A small garden was established on December 2000, since then it has provided the citizens with resting space and sightseeing.

The place not only having the wonderful view of a boundless ocean, but also providing an exhibition center, sanitary facilities, an observatory, and convenient facilities including a pagora is the one you must come to enjoy your relaxation.
How to Get to the Lighthouse
By car

Yeongdong Expressway → Donghae Expressway(Exit to Donghae-si) → #7 National Road towards Mukho Port → Mukho lighthouse (10 minutes by car)

By public transportation

Donghae Intercity/Express Bus Terminal → Bus 12 6(3 time operations per day) → Get off at Sambon Apt bus station → Mukho lighthouse (10minite by walk)
Scenic Place
Situated in San 2-215, Mukhojin-dong, Donghae-si, Gangwon-do, it serves as watching tower that covers Donghae and Mukho Port(Surface Water in Port: 142.36m2). It is very famous as sunrise watching spot. A night view, coupled with dazzling lights in the port seems like the sea of flame, which something beyond our expression. A garden providing the citizens with resting and recreational space and the exhibition room displaying the data on marine and fisheries are the good reference to understand the marine history and development for the people.
Tourist Attractions
Mureung Gyegok(Valley)

Situated in Samhwa-dong, Donghae-si, it's long been the famous scenic spot, which was first designated as national tourist site in 1977. Surrounded by Duta-san(Mt.) and Cheongok with a number of falls and precipitous wall of rocks named a folding-screen rock for its folding screen-like feature, two temples sit on the rocks. During the Joseon Dynasty many scholars and writers of great renown including Yang Sa-eon wrote their writings about its scenic beauty on a huge rock, Mureung Bawi. Later, this rock was called a guest book.

Mangsang Beach

Situated in Mangsang-dong of Donghae-si, it's surrounded by pine forest and regarded the first beach in east coast because of its clean and wide sand. With clean and shallow water, it's become a popular summer resort in the nation. A large area of beach, campsite and lodging facility are readily available at any season for the tourist.

Cheongok Jayeon-Donggul(Natural Cave)

Situated in the middle of Cheongok-dong, Donghae-si, it is extended as long as 1,400m, and was first found in 1991 when a new town development project was implemented. Since its scientific value was acknowledged it has attracted many tourists. With a various secondary products such as stalactite, stalagmite and stone pillars, it's been equipped with optimal conditions in providing the opportunity of learning the nature.

Chuam Chotdae Bawi(Rock)

Situated in Chuam village at Bukpyeong-dong, Donghae-si, it was once introduced in national anthem ceremony as background scene, and recommended by Korea National Tourist Organization as the place worth visiting in winter. The Chotdae Bawi is located on the seashore between Donghae?si and Samcheok-si. Chuam Haegeungang is said next to Haegeumgang in Geumgangsan. The beach in front of the village is very popular for its scenic beauty.
The Environment Ministry, when disclosing the 100 beautiful sound of Korea, designated the sound of sea at Chotdae Bawi as the most beautiful sea sound, along with that of Hangilarm at Geumosan in Yeosu-si. Chuam beach in the south of Donghae-si with a sandy beach extended 150m long and 30-50m wide is well known for its shallow water and fine sand. Chotdae Bawi and Haeamjeong in the north of the beach make it more attractive and popular.